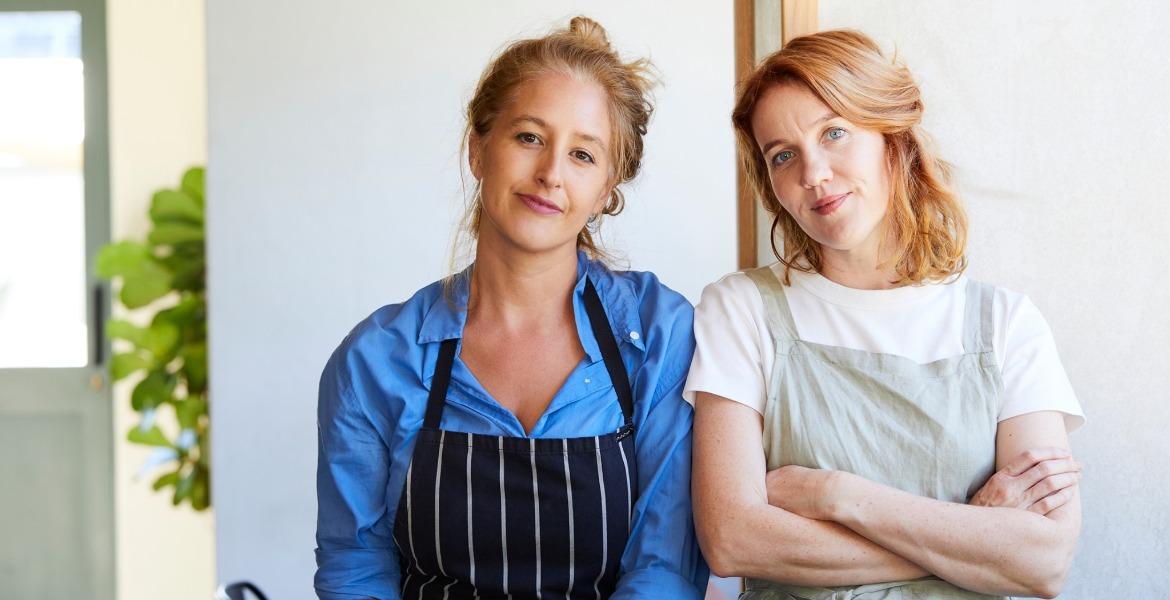 Our partners
We partner with these organisations who are helping their community to love food and hate waste.
We are committed to long-term behaviour change and believe partnerships are an opportunity to drive real change and long-term impact.
Find out more about Partnership Program.
Check out our previous partners.
Innovation Partners
Partnerships that deliver new and innovative food waste avoidance projects or activities that add value to existing program activities. Funding has been allocated to 30 June 2022. Currently a maximum of $25,000 is available for partnerships that can be completed in this time. Projects must align with the program goals and will achieve significant reach, impact and outcomes.
1 Million Women is a grassroots organisation committed to reducing individuals' greenhouse gas emissions. Tackling food waste is a high priority because it reduces emissions and is a practical way for people to lower their personal carbon footprint. This $50,000 partnership focuses on an innovative project to engage its community through a series of cooking challenges featuring top chefs. You can find out more about Food Waste Free October on their website.
The Centre for Sustainability (C4S) helps communities and organisations transform and enhance their sustainability goals. The $24,300 project will see Cleanaway and Love Food Hate Waste working together to develop and pilot a primary school education program on food waste. This will form part of the existing kNOw Waste Education Program and support future school education on the environmental, social, and economic impacts of food waste, while also promoting Love Food Hate Waste 'Food Smart Schools' resources in primary schools across NSW. 
Cornersmith Cooking School is committed to teaching home cooks practical skills and ways to reduce food waste while bringing joy to each meal they make. The innovation partnership between Cornersmith Cooking School and Love Food Hate Waste has provided Cornersmith with $20,000 to create a suite of videos that will take a fresh, fun and dynamic approach to change behaviour in the kitchen and set goals to eliminate food waste at home. The videos will be available free to local councils in NSW and other community stakeholders.
Genus provides an online platform that makes sustainability accessible to young people. The innovation partnership has provided Genus with $20,000 to create engaging classroom lessons, online experiences, and impactful real-world missions that make food waste avoidance resonate with young people. By developing a series of fun activities and a creative marketing campaign, this important topic will become more relevant to young people, both at home and in schools.
Grow it Local is a community-powered platform encouraging households to grow, share and eat locally grown food. Knowing where your food comes from and the energy taken to grow it makes people appreciate their food more and waste less of it. The $50,000 partnership will enable Grow it Local to work with communities to connect growing their own food with avoiding waste it through workshops, online events and other activities to develop skills in the garden and beyond. 
This partnership between the Institute for Sustainable Futures (ISF), Leura chamber of commerce (Leura Village Association), Blue Mountains City Council and Leura Garage will transform the way commercial food waste is managed in Leura. It will involve identifying the volume of food waste produced by local businesses, strategies to reduce food waste and pathways to transition to zero-food waste from commercial businesses. The $40,830 will encourage and resource commercial business in this Blue Mountains town to reduce or eliminate food waste. Find our more about the program on the Blue Mountains City Council website.
Michael Mobbs Sustainable House brings sustainable projects and regenerative practices to mainstream audiences and communities. The $50,000 Cool City Compost Bench project involves working with cafes in Chippendale and Bathurst to reduce the amount of food waste generated. The aim is to eliminate food waste and costs in cafes by generating less and then composting the remainder in street benches outside to grow herbs and veggies. By closing the loop between food waste and compost, this partnership will reconnect people with their streetscape in healthy, productive ways, demonstrate how separating food waste can drive reductions and establish a blueprint for cafes and communities to follow.
The Wholesome Collective is a social enterprise that addresses the complex social issue of poor nutrition and low home cooking rates in disadvantaged communities. It offers programs teaching essential life skills with a strong focus on cooking skills, budgeting and nutrition. This $30,000 funding will help The Wholesome Collective integrate food waste education into existing community programs and develop social media content, recipes and seasonal meal plans for community use. 
Collaboration Partners
This type of partnership is for organisations that share common goals in food waste prevention and education. For example, local councils and other government agencies. LFHW collateral and resources would be available to support these projects.
Dubbo Regional Council, Narromine Shire Council and Mid-Western Regional Council are delivering the NSW EPA's Scrap Together community education program to help residents use their Food Organics and Garden Organics (FOGO) bins more effectively. Food Organics and Garden Organics (FOGO) is a kerbside collection service that diverts food waste from landfill, reduces greenhouse gas emissions, and uses the waste to create top-quality compost. The councils will work together and integrate Love Food Hate Waste into the program to help people reduce food waste as well as recycling what can't be avoided into compost.
Foodbomb is the smarter ordering solution for hospo that aggregates wholesale food suppliers into a single site, where hospitality venues can search, compare and order products. Founded in 2017, Foodbomb gives NSW, QLD & Victorian venues the ability to search 50,000 products from 19 categories including meat, fruit & veg, seafood, poultry, dry goods, smallgoods, bakery and more. It's free to use, with no commitment and free next day delivery. Currently, Foodbomb supports over 3,000 cafes, pubs, clubs, caterers and venues across Sydney, Melbourne and Brisbane and represents the future of ordering for the hospitality industry.

At our core, our mission is to help venues run a more efficient and sustainable kitchen to enjoy long lasting business prosperity. One of the many ways we do this is by helping venues reduce their food waste. With the support of Love Food Hate Waste, we educate and support our partners to reduce their food waste. Our consultants, mostly ex-chefs and hospo professionals, can help them create better menus and reuse ingredients across their menu to minimise food spoilage. We also create case studies that inspire other venues and suppliers to tackle food waste and provide venues with assets that physically help them reduce their waste. Our approach is a mix of education and action that combines awareness with tangible results. 
Food Fairness Illawarra (FFI) is a community coalition that has worked together since 2005 with the vision to make healthy and sustainable food affordable and accessible for all. Guided by representatives from the three local councils, the Local Health District, the University of Wollongong and Healthy Cities Illawarra, FFI has a wide network of over 1000 individuals, community groups, charities and non-government organisations, who recognise the need for collaboration between community, industry, and governments to unlock fairer food solutions. As a LFHW Collaboration Partner, FFI will deliver a food waste focussed educational campaign that will utilise their monthly newsletter, well-established social media platforms, partnerships and the "Minimising Waste" section in their web-based Fair Food Field Guide.
Tamworth Regional Council is delivering a community education program to help residents use their Food Organics and Garden Organics (FOGO) bins more effectively during the region's first FOGO trial. FOGO is a kerbside collection service that diverts food waste from landfill, reduces greenhouse gas emissions, and uses the waste to create top-quality compost. A group of 250 households in Tamworth is helping their community navigate its way forward with recycling by taking part in the trial allowing food scraps to be added to the garden organics green lid bin. Tamworth Regional Council will work with Love Food Hate Waste to help people reduce food waste as well as recycle what can't be avoided into compost.
The United Nations Association Australia (UNAA) is the official non-profit, non-government and membership-based organisation in Australia working to strengthen and improve the United Nations and engage people in its work, goals, and values. The UNAA aims to inform, inspire and engage Australians to create a more sustainable world. In this Decade of Action to achieve the Sustainable Development Goals (SDGs), the UNAA (NSW) is focused on creating awareness on the SDGs with the aim of increasing Australia's contribution to the goals. The LFHW partnership will support UNAA (NSW) to share food waste avoidance messages through their platforms.
Community Partners
This partnership category supports projects that incorporate the LFHW brand and messaging into existing events or activities. Funding of up to $1,000 is available for not for profit organisations and small business to integrate food waste avoidance messaging and the LFHW branding within their established activities or events.
The Red Door Hall, part of the Parish of Moruya, Anglican Diocese of Canberra and Goulburn, is accessed by all types of community groups to run events that support and enhance their community. Each Tuesday Red Door Hall Kitchen becomes a volunteer-run community café providing around 50 meals to vulnerable members of the community, with food donations from Woolworths and local community gardens. The $1,000 funding will support the Anglican Parish of Moruya to provide vulnerable community members with access to food while preventing food waste by diverting food to donations.
FoodCare Orange is a not–for–profit social enterprise provides individuals and families on low incomes access to affordable fresh food, groceries and household items. Its vision is a community where people don't go hungry while at the same time getting the opportunity to learn more about nutrition, food sustainability, recycling and waste reduction. This $1,000 will help FoodCare Orange to build a community garden around which education can be made more interesting and relevant to the day-to-day lives of their customers.  
Go Circular is a Newcastle-based not-for-profit organisation with a mission to drive the shift to a circular economy, that is regenerative by nature and meets the interconnected needs of society and the environment. The $1,000 Community Partnership funding will support one of the Hunter region aged care facilities by incorporating the LFHW "Your Business is Food Aged Care Toolkit" to help the facility's staff to avoid food waste and improve wellbeing. We aim to drive food waste reduction right across the NSW health sector.
Healthy Cities Illawarra is inspired by the global Healthy Cities movement and motivated by the philosophy that prevention is the best cure. This local group works with local government, health care providers and other community organisations to prevent and control diseases by addressing the underlying social, economic and environmental causes of health inequality. This $1,000 will help fund the development of factsheets, resources and activities in the Cook Chill Chat program to continue spreading the Love Food Hate Waste messages. 
The Macarthur Centre for Sustainable Living (MSCL) is a registered charity and community-focused organisation that functions as an education facility and model for the promotion of sustainable technology and living practices in homes and businesses. MCSL explores sustainable living through community education workshops, school excursions, pre-school programs, sustainable barista training, tours, venue hire and projects that build social capacity and empower people to live sustainable lifestyles. The $1,000 funding will support a branding update for their food waste programs. 
Minifarms Australia is inspired by the founder's love of food and the unity and camaraderie that it brings to communities. This organisation helps encourage less wasteful and more nutritious cooking through simple and tasty everyday recipes. The Minifarms innovative ordering platform (launched in April 2021) allows local communities to come together as individual fresh food co-ops to purchase fruit and vegetables directly from Sydney markets. This $1,000 will help promote the Love Food Hate Waste message. 
Our Lady of Lourdes Catholic Primary School is a school in Tarro, NSW. A culture of caring for others and the environment is cultivated through the schools many projects, including a Bush Tucker Trail, orchard, vegetable garden, worm farm and composting area. The Love Food Hate Waste community partnership will enable Our Lady of Lourdes to share the Food Smart journey and food waste avoidance messaging with its school community, helping families to save money and reduce food waste.
Port Macquarie Community Gardens (PMCG) is a volunteer-based community organisation that has partnered with Head, Heart and Hands (HHH), a local climate change resilience project. The $1,000 will enable LFHW messaging to be included throughout all relevant activities during this two-year project across both HHH and PMCG. Activities will be hosted at the PMCG managed community space, the Lost Plot, which is where people come together to share skills and experiences (and food!) while learning about growing food organically. 
South Coast Community Kitchen is a community kitchen that operates through food donations from various members of the community as well as local businesses.  Local bakery and fruit suppliers donate excess food as an alternative to disposing in landfill. The LFHW partnership and $1,000 funding will enable South Coast Community Kitchen to reduce its operating costs whilst expanding their capacity to provide meals to the community.