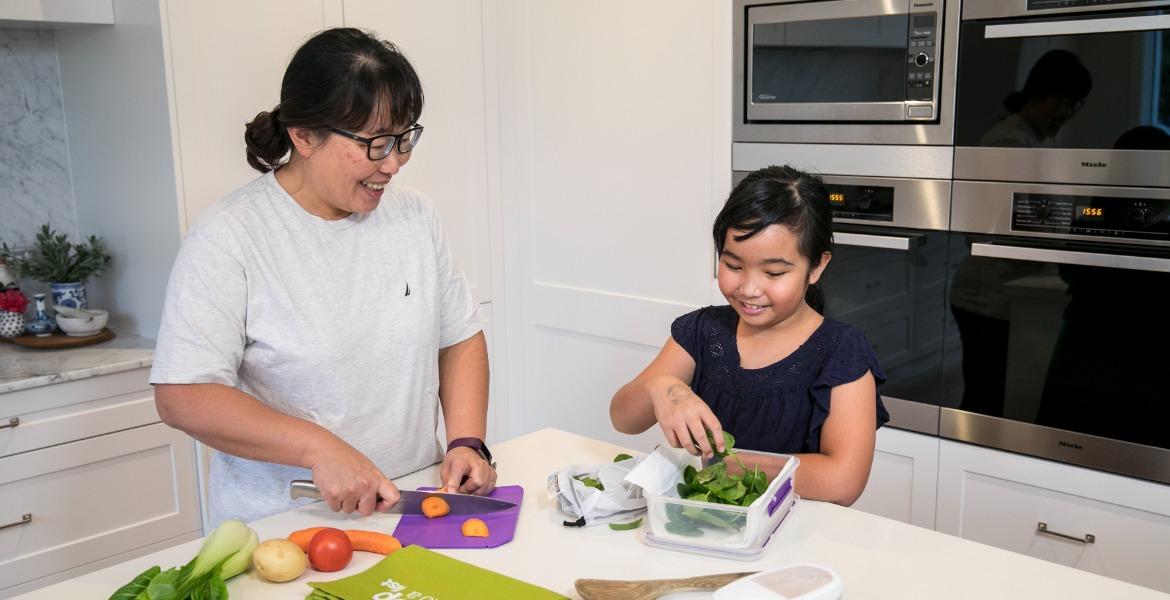 Food Smart School resources for parents
These online resources are for parents who want to do interactive educational activities at home with their children. The worksheets and games teach good life skills and positive food behaviors in a fun and engaging way. 
When food is wasted, it wastes other precious resources, like water and electricity. Globally if food waste were a country, it would be the third-largest contributor to greenhouse emissions!
We've partnered with Sustainability Victoria to develop lesson plans for children in Years 1 – 8. These colourful resources are aligned with the national curriculum, which focuses on the challenge of food waste.
While targeted to a year group, the activities below may be enjoyed by children of all ages.
Good for the little ones. Pull out a selection of fruit and vegetables and ask them to decide the best place to store them or how to use them up!
Do a fridge and pantry audit. Clean out your cupboards then sort out your fridge. Get the children to put what they find into three categories - 'eat now', 'good for later' or 'throw it away'. Check out our top storage hacks for keeping food fresher for longer.
Record your family's food waste actions and celebrate when someone does a positive action.
This one requires your children to help plan and prepare your family meals and monitor where food is wasted and by whom! It will also help you work out who in the family can save the most money by avoiding food waste.
Research the journey of your food from paddock to plate and identify where it might be wasted. Watch The extraordinary life and times of a strawberry.
Record your food waste for a week and identify why food is wasted and how to avoid it in the future (helping your child develop problem-solving skills).
Make your own game by writing up four good and four bad food behaviours. Use dice to roll and reward or punish good and bad behaviours. 
Useful links
Get your school to teach how to love food and avoid waste in the classroom.
Our Food Smart School resources include detailed lesson plans for teachers and worksheets for students in Years 1-6. Discuss this with your teachers and let them know of our free easy-to-use resources.